Sun 9 Dec 2012
Posted by laup under 5 Stars of the Magi, Abundant, Conversance, Interesting, Meditations, Music Quest, Playtime, Relevance, Review, Technique, Transmutation
Comments Off on Packing a Rum Punch: Cracksman Betty by CRIME and the Forces of Evil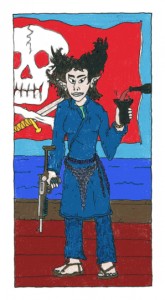 I heard tell that without gospel there would be no rock and roll. I believe it's true.
At some point, all great bands do an album of covers and jamming experiments. It's inevitable; you need to return to your influences and work out their place in your musical development.
The acoustic elf-metal band CRIME and the Forces of Evil released an album of their turn at this kind of exploration and I'm warmly surprised. Usually this sort of thing is just not interesting to me at all, yet here I am energized by the exposure.
Total respect to them for having a lighthearted romp through their roots because this is important work. It's an affirmation and a blessing to work through what has gone before and make it your own. The expressions of music belong to all of us, but if they aren't renewed they fade from our spirit.
I loved their previous album, so I was expecting this to be a waypoint—a kind of rest stop to catch their breath and power up for the next round of discovery. Covers of standard issue favorites ho-hum, whatever. Boy was I completely wrong!
First off, these musicians have clearly improved since last time. How is that even possible when the last album was so good? There's confidence in this collection, and that means this time they just sit back and have a riot of fun. Humor, camaraderie, loving life—the songs are well established but CRIME makes these songs pay.
They've been playing live long enough now that they are getting some serious chops. Some of the songs are live and sound fantastic. They bring in guest stars, another sign of leveling up, and while "Red is the Rose" is my least favorite song I still must say Leannan Sidhe sounds every bit as good as a mainstream act like Loreena McKinnitt.
When I hear "Old Black Rum" I find myself drawn in by the sheer fun of it all. It might be the best song about drinking I've heard yet. The elf spirit kindles a human passion for hanging out with your friends and singing along, or if you drink alone the recursive pleasure of roaming the hallways of your inner self in warm joy.
The first song, "Song for a Blockade Runner/High Barbaree" is the highlight and easily the strongest song—such great lines and pirate attitude—but don't overlook "Hove in Long Beach". A great beat and good fun music to feed the soul. Howl it!
"Paddy Murphy" rules. Best rhymes ever, with such a playfulness I can't imagine a better funeral romp. Then there's "I'm A Rover," which is so singable it gets stuck in your head for days. "Columbia" is objectively the weakest song, but it is still wistful, beautiful and real.
The last official track, "Dalek Boy" is an outtake of sorts, with the musicians all speaking in mechanical voices as they try to cooperate long enough to do a rendition of "Danny Boy." The absurdity of the track distinctly establishes this album as belonging to the irreverent humor that the group is developing a persona around.
There's an element of public disobedience inherent in the songs, of being a lowdown outsider who is unapproved of by the rulers. In a way this is just what a gathering of super-villains actually is: ordinary people with extraordinary viewpoints hearing the call to gather into an assembly and defy authority that serves only a few superheroes and their estates. Hanging out in the pub singing songs might be the most dangerous place on earth for the League of Justice for the Fortunate Few.
This is how a band builds a catalog of items worth owning. Holy cow, can that be true? Keep your eyes on these folks.
5 out of 5 Stars of the Magi.