Fri 30 Mar 2012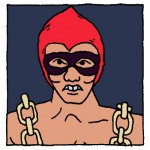 As the horror host transformation does its thing, all sorts of interesting sources of civilization are cropping up and showing us what they got. The Vortexx is certainly a formula worth studying, as they have managed to get quite a few things mixed into the creativity cauldron nicely.
There's the Internet interface of a movie-based show under control of the hosts brought together by fate to make interesting stuff. Promos, old commercials, monster movies and horror host performances—this is where you start.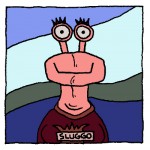 Then there's the chat on the side. You can just lurk if you don't want to get to know anybody. Everyone's got the right to be a ghost if they wanna stay secret. Or you can jump in and become acquainted with all the weirdos and creatures out there gathered around a scary campfire for a good time.
Hey, it's a party and it's random. Enter at your own risk, just like a real life haunted house experience.
What really makes or breaks the experience though is the non-host contingent and the crowd they attract. You totally need a tight cast of characters or the shows won't amount to much as they are unveiled.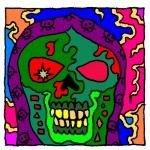 You've got far-out characters like the Crimson Executioner, a deranged torturer dispensing all manner of innuendos and witty quips while pushing jars of his royal jelly. Part charlatan, part Addams Family wicked joy, and part deviant with a passion for entertainment and a mind of courteous surprises—this apparition with a perfect body is far out, man!
There's DoktorSick, a fiendish high tech experimenter with an electronic eye for captivating clips and disturbing juxtapositions. Yet behind that fevered mask of skeletal cyborg mayhem pulses a brain capable of creative insights with sophisticated impact.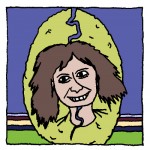 You'll find Jason "Egg" Brown, a soft-spoken lunatic curator of the forgotten and dusty circuits of the Internet, pushing arcane dials and adjusting human spines to keep the show live as a wire.
Then there's Sluggo, arguably the crown jewel and mascot of the Vortexx crew, an inter-dimensional pink slug with eyestalks inspiring a tidy ship and dispensing random blessings of outrageous character. Sluggo welcomes everyone and declares the spirit of friendship to all comers.
The line up is always changing. Hey this is vaudeville folks; blink and you miss the rotating walls and trap doors swallowing up people behind you. That's kind of the theme: the Vortexx as a locale that is both a central gathering point and an unstable dimensional hodgepodge.
The weekly alternating schedule looks like this:
Monday you'll find yourself entertained by the inestimable Dr. Sigmund Zoid and his bag of Alternative Realities.
Tuesday brings you the momentous Mr. Mephisto from Lenny's Inferno or the fathomless green Freakshow from the Bordello of Horror.
Wednesday has the insightful yet skeletal Nigel Honeybone from the Schlocky Horror Picture Show or a disturbing chuckle or three courtesy of The Host from Screaming Horror Theater.
Thursday summons forth the indescribably bizarre Justy Ghost from Shocking Theater.
Friday blasts off with Demented Drive In Theater and the crack horror crew of Floyd Cadaverous, Nurse Evilynn, Kenny Wickman and Grandpa Larry—or Fright Night Theater hosted by the gotta-see-him-to-believe-him Pumpkin Man.
Saturday winds up the week with the Late Dr. Lady Show, hosted by the brilliant David Lady and his steadfast band of Laura Lady, Ilean, and Wolfie.
Random spin-the-bottle bonus appearances include the Ghoul Kids and their Undead Show, Riggor Mortiss and Nyte Angel from Riggor Mortiss Presents, Scarewolf doing some Saturday Fright Special, and freaky shorts courtesy of Shocko the Clown.
I'm pretty sure the non-host units keep a few special surprises stashed away, and they are always generating new ammunition to load your brain cells with. For example, the inventive Rizzle MaNizzle the Clown once prank called Crimson Executioner and turned it into a short on the show! Unscripted improv right before your very eyes.
So you hop on over to the website, fiddle with the chat interface to get your nick and text color set, and watch movies that epitomize the greatest attempts at self-civilization since Aristotle, all with a bunch of strangers who slowly begin to take shape as not just horrific creatures of all kinds but also family of the heart.
You better watch out or you might have some fun!
No Responses to " Pizza Rolls At The Vortexx "
Sorry, comments for this entry are closed at this time.