Wed 25 Jul 2012
The other day UFO Girl delivered a pizza to my brainpan, compliments of the Naughty Louse. Wait, who? Might that be another name for my Bad Ronald?
I know he's been out there in the world, breathing the fresh air and squinting at the sunlight. By owning up to my own problems and breaking free, I got him outside to a new dimension of life.
I guess he has UFO Girl's pizza delivery number, and maybe even a coupon. Come to think of it, a redeemable coupon or token for UFO Girl delivery must be a highly unusual contrivance.
In any case, this information extravaganza inside my brainstem calls up all the necessary ingredients for moving along to the next step in the building of the karavos, this UFO I am participating in.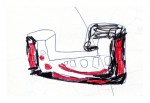 In order to fly a UFO it may be necessary to adopt a control panel or command module of some kind. Consciousness works by directing disparate and in-conflict parts unified by a tendency towards out-of-chaos-into-dance using the twin beasts of the chariot to carry us home.
Here, out of the past, from a child's hand in a different sector of space and time, an adult calls forth the preserved image of a kind of desired control panel interface. Touch, and the universe responds with your intent. This, the Dark Goddess has shown me.
Drawing upon the active imagination of movement from one form to another, one might advance the shy and hesitant emergence of a beautiful treasure from the unconscious, adapt it with the ability to breathe air and switch modes of existence.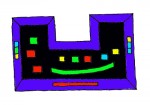 I use the small and slightly more mature tools of thought at my disposal to render another version of the control panel. Connected to the previous version, yet also individual. An eye opens, an eye blinks, and a moment passes. In the gutter of that moment is revealed another image.
For you see, in order for this to be a navigation tool to fly with, from which other panels might spring from, you need to know what reality you are in. One must take a reading, so to speak, of where one is in psychic existence in order to know your non-existence parameters.
Remember, nothing is where it calls from!
I mean…err…comes from. You will explore more fully the abyss seeking where the unknown is likely to be. And again, a map arises out of the wondrous imagination of a child's natural witnessing of what is all around and within. This is the baseline from which springs the core of a UFO's wanderings at play.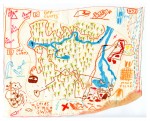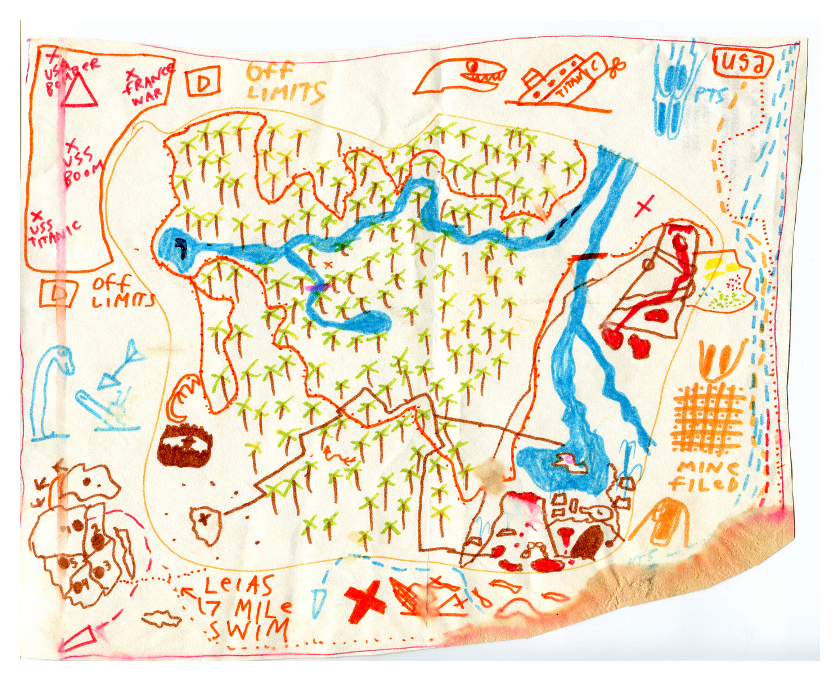 This is a dangerous proposition to consider. To generate a star chart of this comprehensive a manner requires a spirit of adventure, but it also requires a readiness to be changed by what you encounter. As Doctor Who would say, "Travel broadens the mind", yet behind that one must also realize that to embark on a venture seeking new ideas is to be exposed to risk if those ideas are to be fresh.
The spoor and tracks of the supernal super-predator mean business, yo.
Since this is a newly emergent ancient UFO, the display panel from the adult perspective is blank for now. Anything and everything might emerge upon this nothingness. The fool's zero begins our journey with a bronx cheer.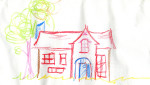 All that remains now is to materialize a starting point with which to begin our journey of the UFO. In this case, the input of another person is useful in suggesting that which we might ourselves be blind to, or lack the courage to tackle ourselves. A true companion is a great assistance in regarding those things we might lack the resources to reckon with fully.
Home is a good place to decide upon as a reference point. Departure, return is a cycle that matches the lifeforce of the universe. Breathe in, breathe out. Eye open, blink. Time and space appears in the vast indescribable eternity that runs with us wherever we are or aren't.
A form, an interface, an occupant, a journey. All pieces are now complete.
The pizza has been delivered.
No Responses to " How To Build A UFO, Part 4 "
Sorry, comments for this entry are closed at this time.