Fri 28 Dec 2012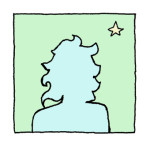 For a long time I've had a roster of crewmembers who populate the internal main bridge of my psyche. You might say that the Star Trek organizational scheme provides a ready archetype for my thoughts and feelings to constellate around.
Handling the communications console is a personality named Jessica. I'm pretty sure she was meant to be the female companion who accompanies Logan in the 1976 film Logan's Run. I had a childhood crush on the actress Jenny Aguetter who played Jessica in the movie.
At that age I thought Jessica the character was the real person and Jenny was just her name in our reality. So creating a character based on her in my own mind to accompany me on my journey of imagination, or just general life influenced by a personal inner world, seemed like a good idea.
The crew of the Starship Snipe still carries the internal psychic organizations I've given them to this day. However, I've never explored them in detail—they all embody personal connections with characters from books, movies and TV that I enjoyed growing up with.
With the UFO becoming the central organizing principle in my psychic voyage, it may be time to reexamine my crew and the starship model. Ultimately, Star Trek and the characters I've borrowed are someone else's experience that has become collectivized.
Such communal models are easy to access and use. They have value to our survival. However, they can only be launch pads for our personal explorations. The human dimension of wholeness requires that we make a personal journey to inner space to align ourselves with the actual organic connectivity of people.
I need to strike out on my own and identify the processes and elements behind my image. What if I'm oppressing or harming some aspect of myself by relating to it through a simplified model of consciousness?
So here we go. Using my power of imagination to inquire about Jessica as an internal personality and psychological adaptation.
The name Jessica comes up in my dictionary as having a Hebrew origin—Yiskah and Iscah which means "shut up" or "confined". There's a Greek and a Latin version, Ieskha and Jesca respectively. Unfortunately there's no cultural context to go on, I'll have to beam in the Internet connection.
Which, as it so happens, is Jessica's job on the starship. She's helping me along with this, naturally. Maybe this is a search for identity episode, a character building moment where I finally gain enough understanding to grasp a concept of her personality.
I think of the Teen Titans comic issue #38—"Who Is Donna Troy?"—where a detective investigation leads to the truth of Wonder Girl's parents.
A strange smell of sanctity runs past my nose. That Holy Ghost effect that I know Lucerna would find compelling evidence I am on the correct trail.
The first recorded use of Jessica comes from Shakespeare's Merchant of Venice, and refers to the daughter of Shylock, who is of Hebrew origin in the story. I also dig up numerous baby name sites that give variations of the meaning as having to do with either God seeing, watching and beholding, or referring to gifts and wealth.
I let this trail of synchro-mysticism go off into the woods for now. Next up is the position itself.
The communications officer in Star Trek has often been criticized as being little more than a switchboard operator, with Lieutenant Uhura's role minimized many times to the point of uselessness. I agree with this assessment, mainly because the position is actually critical to the operation of the ship. It requires someone who operates at a high degree of ability to perform properly.
Think about it. The communications officer has to direct the flow of information all over the ship. Repair crews, medical teams, and security details all rely on this officer's leadership to act efficiently. If a crewmember notices something amiss the communications officer will likely be the first to hear of it and be able to warn the captain or relevant department head.
Depending on how you interpret the technology and schematics of a starship, the communications officer also needs a high degree of technical knowledge to operate the subspace radio and long range sensors that go along with that. I could see skills in computer programming and electronics as being necessary.
Maintaining a selection of diplomatic strategies and tactics is a huge order. Languages, linguistics and translation all need a lot of theoretical as well as practical knowledge. The person in the position has to be adaptive, flexible, and open-minded as well as intelligent and highly trained.
There's an element of espionage implied in this function too—ciphers, jamming enemy transmissions and releasing ship wide alerts. I can see why the Next Generation Star Trek world merged communications with security.
Needless to say, you see some hints of these roles with Uhura in the TV show, but it almost entirely disappears by the time of the movies. Space battles don't require anything other than making sure the shields and weapons work. If they don't speak English then shoot to kill. It's profoundly anti-specialist, anti-technology, and anti-science.
Need to transmit or receive data or messages? Maintain channels of information in-ship? Jessica has done all this and more. I only vaguely comprehended it—mainly I fell into the trap of casting the girl on my ship into the role of social interaction mediator. See how powerfully influential role models can be?
The point of communication is to share, divide out, impart, inform, join, unite, and participate in. In other words, "to make common." Such an important task! And yet, Star Trek has subsumed this role into something else after decades of making it a minor position.
No! Boo!
Well I'm bringing chat back, yo. Or at least recognizing what has always been there all along: Communications leader Jessica doing an incredibly difficult, complex, important job without recognition or respect from me. The collective reckoning needs to evolve; it's way behind the times and has been fifty years ago.
At this point I have to start questioning my own assumptions. Is Jessica even her name? Is it a nickname based on a projection? Is Jessica really female, as a kid would grok it, or a human being from earth? I might be overreacting; it might just be the dialogue has been so limited as to include only basic details.
I'm usually not so good with practical questions. The time has come to face the difficulty and start asking, to open up a hailing frequency with my own communications officer.
Jessica, I'm listening!
No Responses to " Who is Communications Leader Jessica? "
Sorry, comments for this entry are closed at this time.