Wed 19 Dec 2012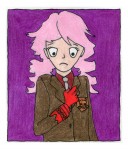 In many fairy tales, childhood is the worst time of your life. This is worth pondering.
A brave and plucky life simulation computer game known as Long Live The Queen dares to take on the challenge of allowing you to explore this possibility, as experienced by a princess faced with adapting to a brutal adult world at court. It's an extraordinary stance to play with in a market where franchises, sequels and reboots are all that matter.
Your mother (the queen) has died and your father has his hands full keeping the kingdom from falling apart outright. You have been sheltered by your parents so much you know literally nothing at all about the life skills needed to survive in high society.
Your father (the king) has arranged for you to be in complete command of your education with the finest tutors. You have but to select what two courses you take each week to steadily increase your abilities, knowledge, and experience. On the weekends you are free to pursue your own interests. In a little less than a year you will be old enough to officially assume the throne as queen and restore stability to the country.
As in many fairy tales, there are three daunting obstacles you must overcome.
First, every adult you meet is out to kill or manipulate you. That includes your father. You literally cannot trust anyone. People will try to use your influence to strengthen their own plots, attempt to assassinate you for reasons you have no idea exist, or just prevent you from reaching certain goals that conflict with theirs.
Second, you are still a child with very little control of your emotions. You must master your intense reactions to events and carefully think about the cost to your mood when you take action. Otherwise, your education will suffer and you'll be pulled along by events instead of steering them toward your survival.
Third, you don't have time to learn how to do everything that is required of you. There are not enough lulls in the action to allow you to close all the gaps in your vulnerabilities. Many of your opportunities will be lost, often without you knowing they were even there. You'll need to make hard choices about what to focus on to be effective.
Good luck, kid.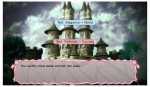 The game is very unforgiving on the cruelty scale. Every choice you make has a cost. Decisions come back to haunt you later. Often you don't know you're in a dead end until you're way past the point of no return. Maybe you should have spent that earlier time to learn Accounting after all. Save often and keep several waypoints looking backwards.
It's harsh, but it makes a very strong point—you are in trouble and scarce equal to the demands thrust upon you. The alternative to victim is equally harsh though: What are you becoming as you get closer to your goal of reaching your own coronation?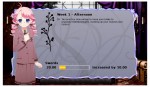 I like it. Too often games don't have the guts to face you with yourself through the choices you make 'as if' you were in a situation. Escapism is a noble and necessary form of play, but sometimes we need to be thrust into the haunted house. There are some forms of hypersensitive play with deep value that we may be losing out on. Long Live The Queen doesn't let this path go unexplored.
Hanako Games have long been masters of the resource currency system. In games such as Cute Knight or Magical Diary decisions about where to take action and allocate points make for incredible gameplay. You need to be strategic and aware of how your choices affect the state of your character.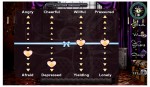 In Long Live The Queen this becomes manifest in the management of your mood characteristics. You control your mood both by taking actions during the story and by weekend activities such as attending court or visiting the dungeons.
Different moods give you bonuses and penalties to your education during the game. For example, if you are cheerful it is easier to learn many social skills. If you are willful instead of yielding, you will find it more difficult to learn critical court skills. But negative emotions can also be useful! Depression helps you learn artistic expression and being afraid helps you learn reflexes.
Mastering the balance of your mood swings is critical to a successful game.  It determines the speed at which you learn and at times what skills you can study at all. Every week of study counts; a streak of feeling pressured can be disastrous at the wrong time.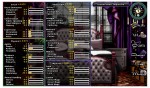 The choices you make in your education are the other part of your character's agency.  What you choose to study will influence how you solve problems. You can't fight off the bandits without some archery skill, but maybe it's better to have enough skill in internal affairs to find out who sent them against you in the first place.
The level of a skill determines your options during the story—a high enough skill level in an applicable situation can give you more choices and provide you with information about what is happening. For example, knowing enough about what accepting a noble's gift means will allow you to choose whether or not to accept it. Otherwise, you'll blindly accept it (ooh shiny…) and commit to a course of action that may not suit you.
If you gain enough overall ability in a group of skills, you unlock an appropriate outfit. When you wear this outfit, say the Tea Dress, your conversation skills will get a bonus. Also, once you reach a certain level many skills give you additional options during the weekend. These activities may be used to make small adjustments to your mood.
It can be a huge help to have the option to play tennis at a competent level and blow off steam, increasing your confidence.
The game world itself is detailed and intricate, with a web of personal agendas that takes a lot of play to parse out. It has magical powers, mysterious creatures, and divinatory portents. There are secrets buried all throughout the realm. You'll have to gain skill in the right areas to learn about the details. Or find out the hard way when you encounter things first hand right before you're killed!
The descriptions of the skill levels as you earn them are elegant and to the point. I often felt I was learning a first class primer on music, history and cryptography as my young queen-to-be advanced. The interface is solid and the music is appropriate and subtle. You really start to feel as if you're moving through a court of high pedigree and opportunity.
It's an outstanding game. The premise is well developed and the gameplay is excellent. However, it has greater value than just being worth your time and money. There's a powerful statement here implicit in how the game portrays a girl finding the strength to overcome the crushing expectations of the society in which she lives.
What kind of adult do you want to be? This is gobsmackingly important and relevant stuff in a world where girls flock to Bluebeard tales such as Twilight—where being a valued, infantilized object is the best you can hope for. This game pulls no punches in what you as a girl must face if you are to develop into the whole woman you are capable of.
It's a twisted and warped labyrinth that requires you to continually reexamine what is most important to you. How will you pass through the landmarks of your journey without becoming someone else's doll? Growing into a mature, whole adult capable of taking one's place in the world is often a profoundly personal secret. This game reproduces that process in a way that is inviting, meaningful, and fun.
You don't need to identify as female to find value in this game either. There are lessons here that males can take hold of and make hay on if they choose to introspect. Some of the experiences are universal—in the beginning you are full of possibilities, but should you reach the next stage of life (your coronation) you have undergone a highly individual ordeal of liminal transformation.
This is the fulfilled promise of computer games taking their place among the highest art forms possible by human beings. The contemporary era is a bleak wasteland devoid of meaningful rites of passage, save for diamonds in the rough such as this.
5 out of 5 Stars of the Magi.
No Responses to " Grow Up or Die: Long Live The Queen by Hanako Games and Spiky Caterpillar "
Sorry, comments for this entry are closed at this time.