Wed 5 Jun 2013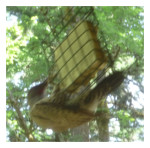 Up here in the treehouse, among the tall and magnificent trees, K and I have been maintaining a rest stop for the birds. On our back porch we have a bird bath, a seed and a suet station, and a multitude of plants. Even some flowers and a liquid feeder for the hummingbirds. The birds are getting the full on treatment.
Hey, it's cat TV for the three cats of Daenerys Targaryen as we call them now. Anything to keep the little furballs entertained I tell you.
However, it's also deeply satisfying to support the little wingeds. Seeing them go about their business and making their various sounds is relaxing. We've gotten to see and hear so many birds now—chickadees, nuthatches, spotted towhees, and grosbeaks. Hummingbirds galore, more than I've ever seen before. I get experience points just thinking about it.
Now though, we're starting to see a whole new range of birds. Big birds. Unnervingly big. Northern flickers (pictured in this post), pileated woodpeckers, and big blue jays with mohawk looking tufts on their heads and loud distinctive cries. They're beautiful creatures, gorgeous to behold, and we see them often. K and I will be working on our computers, hear a certain chirp or tweet, and look out the window to our side to find exciting friends going to town on our gifts of seed and suet.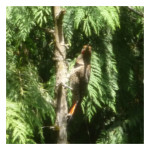 Next of course come the predators—the hawks and then the barred owls with their distinctive hooting sound. Hearing them so close all the time, and spotting them regularly as they sit on a branch just outside or swoop down to catch something in the meadow below. It's truly a healing, powerful experience to be in such company.
Crows inevitably follow, harassing the larger predators and bugging them until they go away. The crows don't want the seed or suet. They want junk food and roadkill more than anything else. Other birds show their bravery against the large predators as well: Robins buzzing the larger avians to keep them away from the nest. Quite an inspiring and incredible sight!
The tiny little birds hopping around the porch amid the lushly growing plant life we've provided, pecking at the seeds strewn about by their more messy cousins. The huge birds as big as our cats coming over to snack on some berry suet and check out what's going on. What fun and excitement!
Then the grown up babies start jumping in from the branches, doing micro flights to pick up their own meal under the watchful eyes of the parents.
This is wonder.