Sat 27 Apr 2013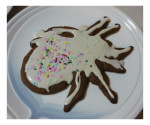 Here is the PDX Gingerbread Witch Spider Cookie that I ate.
Sickly sweet with a hint of spice, but definitely not nice. I got a small stomach quese-out after eating her. You'd have to be on serious business to eat a cookie like this.
Looking at one of my old tarot card paintings, I see the word "haiaa" written randomly in the folds of the volcano. Searching for the word on the Internet, the first thing that comes up is that in India it's a word for "become".
There's a great horned owl outside. He's established a territory in the woods around the secret treehouse I've been hiding in. Identified him and what he was doing through the sounds he makes.
Lots of woodpeckers too. Pileated, Northern Flicker, and two others I can't identify yet. They like the food put out for them, and the plants all around on the porch that make the feeding seem safe.
I obtained a Bee Adventure Kit for the mason bees and put it together. It sits outside amongst the plants waiting for arrivals. A friend of mine also donated a bee hive to a struggling family in my name. More beekeeper experience points.
Lunar full moon in Scorpio releasing so much supportive energy towards me that I felt extra-energzied. Frankie was an absolute terror, escaped the treehouse and had to be recaptured—her favorite game. She needed lots of attention and a walkies to finally settle her down to the OMG level.
Got some horoscope clues about my life destiny. Very strong indicators that what I want match up with the things I'm here for. Getting there is the part that's unknown to me. Clear goals, not so clear path.
Wore my Shiva message bracelet in the wooded park today, as K and I made our rounds along the crowded trail. I don't want to be destroyed, but I'm also feeling like the trap I'm still in is greater than my abilities to escape from.
I don't know what comes next, exactly. Now that I've faced my fears and vanquished my dragon, regained myself—deliverance is coming. The form it will take, still unknown. Brontosaur, my trusty UFO, flies on towards home. Soon I'll know what comes next!
No Responses to " The Taste of Dragon On My Tongue "
Sorry, comments for this entry are closed at this time.