Tue 20 Aug 2013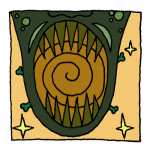 That's "lair of the spider" for those of you who don't know Sindarin.
Michael the cat's demise has got me thinking about my Battle of the Galaxies with the Gingerbread Witch. Michael's poor health made him a weak point in my defenses against the all-out attack of my adversary. It makes the conflict serious in a way I'd hoped to avoid.
I've been mopping up the traps and minions left behind in the wake of the burning up of the Gingerbread Witch. There's more work here than any one person can hope to achieve, but I have been making a start so adventurers after me can dig for gold with less jackup.
Just like that, the Nightchild came back to me with reminders. He's been doing stuff.
I've been meditating on the passing of my beloved cat ani-pal. I barely managed to escape being a victim of horror. I barely managed to defeat that horror. The costs to myself I accepted, yet to have a dear companion fall in the struggle hits me hard. Michael didn't have a conscious say in this as far as I could tell. Did I tell him in my sleep that it would be like this?
Michael the cat was stubborn and strong willed. I don't know how many hits he took for me, but I know he didn't think twice. His meow bombing made him a target because even the Gingerbread Witch could not resist a cat giving her a severe penalty to her actions.
Maybe he bought me the time I needed to figure out the Gingerbread Witch's secrets and dumpster her once and for all. He only knew he loved me and wanted me to reach my goal.
As awesome as I have been, I still needed someone to watch my back.
Michael the cat lasted as long as he could. He got to see me victorious, healing, moving past the horror of my life. I'd learned the lessons he'd been trying to teach me over the years, of patience and kindness to the unlovable. His work was done.
This death of a dear intimate friend affects me all the way to the core. It changes things in me. I haven't been able to form a coherent thought for a month. He was on borrowed time as it was; yet still I feel a sense of guilt because my adventure put him at greater risk.
Even though I know in my soul he wouldn't give a damn about no Gingerbread Witch. He wanted what he wanted and he loved me even as he was in the most intense of long-term pain.
All I can do is break open the barrows of Portland Oregon, spill out the treasures into the sunlight and rain so that a fresh rose of human being can grow and blossom without fear of horrific devouring. Scram, evil spirits! You're done.
I take my share of the treasure, plundering the Mummy's Tomb for the jewels that are mine to have and use for the work I will do to bring new life to the world. People will live better lives, but it still chokes in my throat. For once I cannot say the mantras, the prayers, the songs that would spring to my lips.
The price feels too high to pay now.
One Response to " PDX Was Torech Ungol "
Trackbacks & Pingbacks: