Fri 16 Aug 2013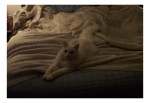 My trusted and adorable ani-pal companion Michael The Cat is dead. This is a blow to me. It's also a blow to K, and our other kitties Blink and Frankie.
Even though his demise was long anticipated it still hits me right in the vitals.
He was a terrible cat—needy, high maintenance, puked everywhere all the time, and he laid the nastiest poops I have ever had the privilege of smelling. Michael was a difficult cat to love, but I loved him with a fierce devotion despite his mind-numbing flaws.
Michael had cardiomyopathy. He was on drugs for that. He had a tendency to get crystals in his bladder so he was on a special food for that. He survived two operations to clean his bladder like it was nothing. The last six months he was having seizures or mini strokes and was on medicine for that. Fifteen years is not a bad run for a cat with so many health problems.
He never lacked for food and water, affection, pets, and a lap to sit on. Toys galore, high end cat litter—he had it all. He would purr all the time when he wasn't howling like a banshee for what he wanted. There were many sleepless nights trying to figure out what he needed when he needed it.
The honeycomb hideout is so quiet now it's uncanny.
The move to Portland must have been the shock that set him on a downward spiral. The move cross country to a cramped apartment with no air conditioning. The coyotes at night howling, the maintenance on the deck, and the stress of his human owners all added up to a push down the drain.
Something gave and he started to fill up with fluid in two sections of his body cavity. Pink fluid in his chest, milky white fluid in his abdomen. It made it hard for him to breathe and lay down. He stood by the food bowl for hours. It was heartbreaking.
Took him to the vet and had him drained, but the vet was like "this is it man, whatever it is none of the causes are good." Skilled hippie vet with a jazz beard with all the knowledge, telling us the whole picture and what our options were.
Deflated like a balloon, Michael got to eat whatever he wanted and slept like a baby again for about a week. We petted him, talked with him, let him know we loved him and thanked him for everything. He started to swell up again though.
He had a meal with the other three cats all at once—tender beef feast his favorite. Then we all got to have one last Belonging Time together on the couch, watching the original Star Trek. He closed his eyes and for a moment was at peace. Then when it was over and we were getting ready to go to bed he had a seizure, crying out, relieving himself. Worst one ever. K and I believed he was telling us it was time.
For the last time ever I cleaned up his nasty poops, we put him in the kitty carrier, and the other cats said goodbye to him with a nose kiss. Then off to the vet.
The late night clinic was awesome. They did everything right to get us to where we needed to be. We said goodbye to Michael, but he was having trouble being present. Just before the injections began he rallied a little, to face the East, but we were committed. He grew limp as we spoke to him, petting him.
After a while his body grew cold and we had to say our last goodbyes, walk out of the room and never see him again. That was such a hard thing to do, even though I knew there was nothing else we could have done, that we did the right thing.
Out into the growing daylight of a new morning. I can only hope he has gone to someplace fun, what else have I got? As much as I know what I know while I'm alive, I still don't really know what awaits us.
Grieving. Got Michael's ashes a few days later. We've put him in a place of honor for the ritual of keeping and releasing. We keep having poltergeist effects and seeing him out of the corner of our eye. We set out a little food and water for him, a catnip leaf for him like he would love.
I dreamt that he visited me as an angelic owl cat much bigger than he used to be. He licked my hand and I knew he didn't blame us for deciding that was it, that he loved us and he was our kitty.
Blink is happy to have one less competitor, while Frankie is depressed that her playmate is gone. Exact opposite of what K and I expected.
It's a tremendous blow to my psyche. Michael and I spent many a long moment together on the Marshmellow Couch cuddling and relating to one another. The Marshmellow Couch is gone and now Michael is gone too. He was a good cat.
The vet told us that white and longhaired male cats are known for being stubborn and strong willed. K and I had to laugh. Now you tell us! It explains everything.
5 Responses to " The Million Dollar Cat No More "
Trackbacks & Pingbacks: