Wed 1 Aug 2012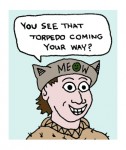 There's this courageous and original artist I know who does good work. Her explorations are top-notch: She is by turns vulnerable, honest, out of the ordinary, and determined. Watching her struggle and make slow discovery is similar to witnessing a lone brilliance dig up the forms that future civilization will be composed of.
I draw a simple picture of a kind of expression she was dealing with. That of having to do with allowing yourself to let go of the parts of your life that no longer suit the direction it is taking.
This is no small thing!
To give yourself permission to jettison those things you no longer need? It can be a grim ordeal. You feel as if you are betraying something, or admitting to yourself that bad news has come to town for real.
Facing up to denial of the shadows in our lives is a heroic act, especially when the taking of action is crucial—to allow ourselves to experience the warrior and swing our sword is shocking. When the warrior destroys what is outmoded, corrupt, or harmful there is a rush of energy in our body.
I'm sure Rogue Priest would have a thing or two to say about that, being of the warrior spirit.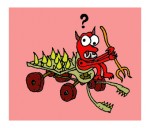 My Hek-sistah once told me that there are times when you take an action and you experience it as an act for the sake of all beings in the universe. Your wishing for the enlightenment of all beings is, in a single moment, the same as that actual moment because in that moment it is experienced as true.
Even if that's all you do—act with the intention—that is a tremendous step forward that benefits all beings in the universe. If you can follow it through and continue onwards that is great, but if you can't it's enough to intend for it to be so.
I've let go of the crummy butt jerks and misery nightmare torture wagons I've been hauling for the last two years. This Pegesus has kicked them all to the curb and moved on to new life.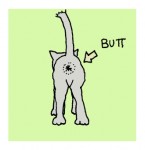 I've given myself permission to do this. Even though it feels like failure on my part, and I never like admitting to myself that I can think of myself over other people.
And I'm dedicating this to all beings in the universe. Yes, even the bums I'm leaving behind to stew in their own juice. We all need to be free from domination and control, and to find our shining in this world of suffering.
All you beings in the universe, for the sake of our enlightenment I'm sayin it as I move on: "See ya sucker!"
2 Responses to " For The Sake Of All Beings: "See Ya Sucker!" "
Trackbacks & Pingbacks: