Fri 30 Dec 2011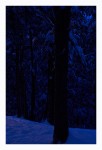 Lately, as I've walked around the loch with the honeycomb hideout bunch, there's been a most unusual sight. The days were getting shorter so basically it's night by the time we get around to our grand excursion of the day.
I've been seeing a lot of homes that have replaced their lights with ultraviolet-blue colored bulbs. At first I thought it was a Halloween thing, but they're all still up. Even though the holiday lights came out, still they persist.
The lights add an eerie, spectral quality to the portions of the walk where they exist. However, I also find them comforting and inspiring. You see, lights of these kinds always reach into the hidden crevices of my mind and draw forth feelings and imaginings of the strangest kind.
What causes the secret, hidden wonders of the night to glow? The sound of the vuvuzellas, of course. A quality in these lights is aware of the call and answers with it's own light.
Or rather, perhaps the glow is perceived only by those who hear the call of that buzzing noise—noise—noise! We see reflected back at ourselves the glow within that dances with organic, firefly mystery in the concealed reaches of our inner haunts.
What comes out to play if we but listen? Our true natures, hearing the rousing dirge of ecstasy that inspires and illuminates what was shadowed and unknown.
If you hear, you will see.
No Responses to " Glowing In The Night To That Vuvuzella Sound "
Sorry, comments for this entry are closed at this time.