Tue 27 Dec 2011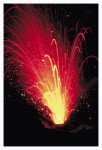 No sooner have I witnessed the spectacular display of magnificent enlightenment that is smarter than the average bear then I'm drawn into watching videos of erupting lava. Unbelievably hot material charged by the heat of the earth and forced onto the surface. Lambent orange-yellow creation and destruction that is dangerous, hypnotic, and moving on a deep level.
The forces of our central being called forth to the range of our consciousness by the awakening sound of the noise—noise—noise!
It is an actual external event we behold with our senses and contemplate with our innermost thoughts. We are reminded of when it is an internal event, our vast panorama of experience widened and enriched by the forces inside ourselves.
Sometimes, forces we did not expect demolish towns we built for ourselves. At other times we are fortunate to be removed enough from the process to have a reasonable level of safety, but are close enough to allow the magnitude of the event to move us.
This eruption of energy from the deeper levels of our existence brings new land, full of delicious minerals for the plant life that inevitably follows. It is true we need the greatness inside to come out and renew our conscious life.
It occurs to me that while there is a certain impersonal fate to the catastrophe of an eruption in the external world, there may be a meaningful connection to the volcanic activity in our psyche. There is a story, a drama hidden in the seemingly inscrutable mystery of how we came to be experience this eruption, however we find ourselves participating in it.
The world hears the call and responds, dancing. There is movement and heat, and the flush of release and timeless joy.
And what is our part in that?
Pick out some movies that use eruptions to drive the situation such as Dante's Peak, or resolve it: like One Million Years BC. We are forced to adapt and respond to what has come forth as a result of the call.
The vuvuzellas have been calling all this time. The difference is that someone heard it.
They look closer at what is happening, they are alert to the change in themselves. The journey to widen their small worldview has begun. Kaboom.
I admit, does one really want to be around when the ultimate volcano finishes off all the dinosaurs? At least in the psychic adventure, all that was no longer needed or had become a wasteland of inauthentic life gets destroyed. Blown away.
It's time to know you live, so that the world may live and be renewed. Hear the call; accept the eruption that is the response.
No Responses to " The World Gets Molten For Those Vuvuzellas "
Sorry, comments for this entry are closed at this time.