Sat 17 Nov 2012
Posted by laup under 5 Stars of the Magi, Abundant, Backwater, Conversance, Interesting, Meditations, Relevance, Review, Technique, The Book Mine, Transmutation
Comments Off on The Secret Ingredient: Starve Better by Nick Mamatas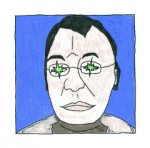 Rat droppings. That's what all art is made of.
If you can't taste it, then the art is bland and no damn good. If that's all you can taste, then the art is garbage and only good for flybaiting.
The true struggle for civilization lies in between those extremes, in seeking ways to express and adapt to life that awakens our senses and stimulates our thinking. The Wizards show us how by demonstrating their unstoppable powers, so that craphounds may learn the proper application of rat droppings.
Except many folks don't want to know what the secret ingredient is. Many of them would prefer others not know as well.
Nick Mamatas is unafraid to tell us the nasty truth about rat droppings in the writing industry. His book Starve Better lays out a series of essays and commentary on his experiences clawing for survival as a writer.
The book is done well, which surprised me. I knew the content would be good, but everything is arranged nicely and in relational order. Each essay has an aside text as if Nick himself were psyching you up for the punching you're about to take. He's in your corner, even as he faces you with the champion.
Get ready for your fantasy projections to take some hits though. Nick's stories reveal the world of writing as a mean, exploitative business filled with dishonesty and confusion. There are opportunities for subsistence, but they take discipline and self-understanding to see clearly.
How else would you find rat droppings? Not from the multitudes of distracted and wrong-headed amateurs buying the image as they dash off like mice to the tune of a phony game show like Jumping for Dollars.
I love the craphounds. I love them like junk food sliders. But crumbs! We need to recognize that crap is where the flavor is, and if your entertainment has any value at all then I'll bet you've got some dirt in there. It pays to face this fact.
Nick doesn't stop there, even though revelations would be enough. He takes the time to seed his text with genuine insight and intelligent reasoning. You learn not just that things are seedy or absurd, but also why and how to make these features into a tool. Often, just knowing the trick exists is enough for you to be able to use it.
For example, his analysis of perfection as a false goal is spot on. Screwing up or having gaps can be an advantage once you recognize it as an inevitable process. Completeness, that is, a flavor that is all your own—a secret sauce—comes from understanding when to stop chasing the pearl. This shows Nick to be a kung fu master already.
You need tips? If you take his advice on listening you'll recognize that everything a writer is exposed to is useful. This applies to his stories in the book as well. From figuring out how to do dialogue, to avoiding your story's failure just before the finish line, you'll find gems of insight.
His best piece of advice might be to pick a direction—to choose a publishing outlet and act on it. Too many folks get frozen in fear because of their hang ups. Nick shows you that yes it's tough out there, but so what? Do it anyway! You'll learn something, gain confidence, and have a few laughs regardless of how you do.
Because you won't find any rat droppings or how to mix your secret sauce by sitting around trying to finish that last sentence just right. You'll only be one more desiccated writer corpse for the sucker wagon. Next in line please! Have your blood and soul card ready.
How well will all this hold up over time? I suspect a lot of it will still remain crucial reading for some while. The world is a gruesome place more than it's pretty, and certain fundamentals of needing to know how things actually work as opposed to what people are expected to believe never seems to change. That makes this book a desperate breath of fresh air.
If you're a writer, then at least after reading this book you'll understand better the reasons you are starving to the crisp. Your choices, right or wrong, will be better informed and more conscious—and that alone is reason enough to celebrate.
If you're not a writer, the book is valuable as a snapshot of many of the things wrong with education, the arts, and human consciousness in general. Rat droppings are not going away.
5 out of 5 stars of the Magi.
No Responses to " The Secret Ingredient: Starve Better by Nick Mamatas "
Sorry, comments for this entry are closed at this time.