Fri 23 Sep 2011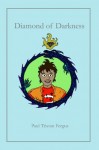 And the stuff keeps on arriving! The paperback version of Diamond of Darkness is now available at Lulu.  That's a 6 x 9 format, 452 pages, for $20.
Considering that you'll pay $14.95 to $19.95 for half that many pages of a comparable book in most stores, that's a whole lot of pure reading enjoyment for the cranium. Having the actual physical object in my hands, I kind of got the shakes there for a while.  The real deal, folks.  No fooling.
Although, to be honest, my friends are chewing through that page count frighteningly quick.  Then come the questions about Book 2.  Still working on that! But re-read the book, I've packed it full of repeat value contemplations and secrets.  Or check out my Lulu author spotlight page and ooh-ahh.  Stay tuned!
No Responses to " Rordan Goes Lulu "
Sorry, comments for this entry are closed at this time.