Fri 26 Mar 2010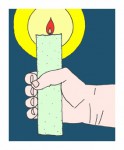 As you once shined in my darkness with your goodness Molly, I shine in your darkness with my caring. My thoughts are prayers of light winging to you that you will find your way home.
With merry heart I pour libations upon the woken spring ground and down the hatch in your honor.  The inspired happiness of my innermost passion reflects a glow from the heavens no night may dim.
From the peak of my diamond island I flash a thunderous tumult for all to know that Molly Kleinman is my friend.  This humble candle brighter than any lighthouse I hold aloft and sing a song of returning to my lost friend.
Let her know peace!  Let her know home!  Let her know joy!  I ordain this under grace, thank you.
3 Responses to " Lighting a candle with thoughts "
Trackbacks & Pingbacks: