Tue 13 Oct 2009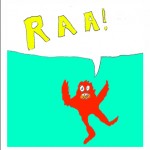 All the paperwork, inspections and minor work to get Gamera out on the field as a true monster car have been completed.  Me and the rest of the clan were in full on celebration mode, doing the wild rumpus in the cooler air with grillin' and chillin'.  Though, whoa, wrasslin' with the kaiju can be mighty wearyin' on the brain stem.
Worked on the garden, clearing weeds and dead crops.  Still goodies coming in (like radishes and spinach), but its time to make way for winter.  Prepare the earth for the deep sleep.  Lots of bees pollinating the beautifully bright morning glories.  There was a huge box turtle in the garden munching on rotten tomatoes.  Yum!
Lots of different idea ores being mined and refined for this space.  As much as I like writing about various topic-alities, it'd be nice if I could kick it up a notch, now and then.  Of course, that crazy novel thing continues to spark and glow as I work it through the space-flames of creative interstellar cool-whip crystaline radiation.
Costume, costume, who's got the costume?  It's about that time of year to reach into the secret locker and pull out a rabbit, so to speak.  What side of me shall I show this year?  Might I even surprise myself?  Having done make-up based monsters the last two years, maybe this time I ought to go for a concept, like Rabid Potato Salad Man.  Raa!
No Responses to " Don't You Know It's Halloweenie? "
Sorry, comments for this entry are closed at this time.