Thu 22 Jan 2009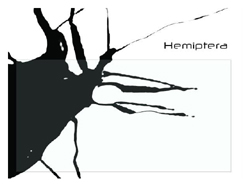 I run into a lot of experimental and ambient sounds on my music quest.  My life support system just won't run very often on the lifeforce in the mainstream.  Out there, in the indepedent and unsung corners of the struggle to reach a civilized music culture, you find some real gems.
Lo and behold, my old college friend Jennifer Clemente (aka Solekandi) is in the music mines!  She has formed a party of adventurers with her husband Yanni Ehm (aka Kontakt) and canine companion Neo to bring forth glorious techno from the depths of the unconscious circuit.
They call their expedition Hemiptera, and have released a collection of tracks from their intitial forays into their chosen cave system.  These folks are no raw-faced newbies to the scene.  They've been honing their skillz in the hearty chaos of the San Francisco scene for years.  Scars and tales, they have plenty.
Their experience shows.  The six tracks are solid, without any gaps or waste.  The sound itself is a thick and hypnotic experience built around an organic base.  At times quirky or unsettling, but always with a relentless commitment to rhythm.  I particularly like the lurid pressure of "Darker Nights" and the squick anxiety of "Hymn for Heathens".  This is music to make people nervous and give urges no place to hide.
But don't take my word for it.  If you like your minimalist techno dark and weird, go check it out:
3 Responses to " Warning: Monsters On The Dance Floor "
Trackbacks & Pingbacks: